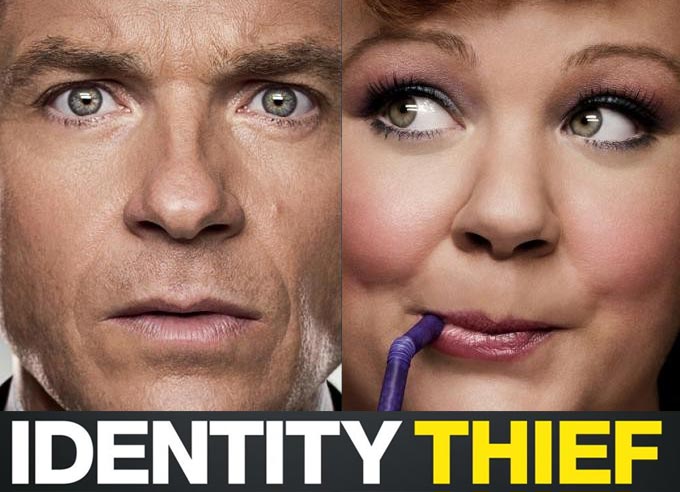 Jason Bateman contended with social media as a concerned father in the dramatic movie "Disconnect" where he discovered that his misfit son tried to commit suicide as a result of pictures that his teenaged son had posted on the Internet.
Now, Bateman plays another father in "Horrible Bosses" director Seth Gordon's improbably but entertaining fish-out-of-water comedy "Identity Thief" with Melissa McCarthy.
Bateman is cast as father who loses his identity to a clever con artist over the telephone.
McCarthy plays the eponymous character with gusto.
"Scary Movie 3" scenarist Craig Mazin and Gordon have a field day pitting straight-laced Bateman against the comical McCarthy and humiliating him at every turn.
Eventually, these two emerge as an odd couple.
The ways they change during the course of the movie make "Identity Thief"
(*** OUT OF ****)
an engaging laffer.
You've got to love comedy, tolerate profanity, and resign yourself to sexually offensive situations to be able to laugh off what transpires.
While McCarthy hams it up as the cunning Diana, Bateman delivers a flawless, deadpan performance as a well-meaning milquetoast.
Morris Chestnut, Jon Favreau, John Cho, Robert Patrick, Eric Stonestreet, and Jonathan Banks contribute strong supporting performances.
This madcap comedy of errors finds our clueless, chumpster hero leaving his pregnant wife (Amanda Peet of "Sax and Violins") and two daughters in comfortable Denver, Colorado, to cruise south to Winter Park, Florida, where he hopes to persuade a gluttonous identity thief, Diana (Melissa McCarthy), to accompany him back to the City of the Plains.
Early in "Identity Thief,"
Sandy Bigelow Patterson (Jason Bateman of "Smokin' Aces") answers the phone at work and makes the fatal mistake of divulging his full name, birthday, and social security number to the eponymous villainess who is posing as a computer security associate.
She embarks on a spending rampage and gets so plastered at a bar that the police take her to jail on a DUI. Naturally, she misses her court date. Not surprisingly, the Winter Park police contact the Denver Police and they pull Sandy over and take him into custody. Eventually, Sandy convinces Detective Reilly of the Denver Police that he is not the same person as the scam artist in Winter Park. Reilly points that it may take between six months and a year for him to clear up his identity thief crisis. Now, Sandy is in trouble with his boss, Daniel Casey (John Cho of "Star Trek") because of his huge credit card debt. No sooner does our upright family guy protagonist track down his identity thief than he winds up helping her flee from two, gun-toting, Hispanic narcotics dealers.
Diana conspired with Marisol (Genesis Rodriguez of "Man on a Ledge") and Julian (Clifford Joseph Harris Jr. of "The Hangover") to forge credit cards for them and their crime boss.
During their escape, Patterson claps handcuffs on her a la "The 39 Steps," but Diana extracts herself without difficulty from the cuffs.
These two wind up helping each other while the villains head off in hot pursuit.
Gordon and Mazin raise the ante with various plot complications during the road trip.
A notorious, big-time mobster behind bars, Paul (Jonathan Banks of "Beverly Hills Cop") who is linked to Diana dispatches a hell-bent-for-leather hit man, Skiptracer (Robert Patrick of "Terminator 2"), to eliminate Diana.
After Skiptracer abducts Diana, Sandy manages to run them off the road and Skiptracer's van overturns during the collision.
Moments after Sandy gets Diana out of the van, a semi-truck demolishes Sandy's car so they appropriate Skiptracer's van.
The van overheats on them, and Sandy and Diana find themselves on foot.
They wind up lost in the woods and camp out until first light.
While Sandy tries to sleep, a snake slithers up one pants-leg.
The snake scene in the woods will keep you laughing, even if the snake is CGI.
Watching Diana trying to drive the serpent off with a flame stick is amusing, too.
However, things turn truly zany when the snake bites Sandy on the neck! Diana's favorite move is to smash her adversary's throat with her fist.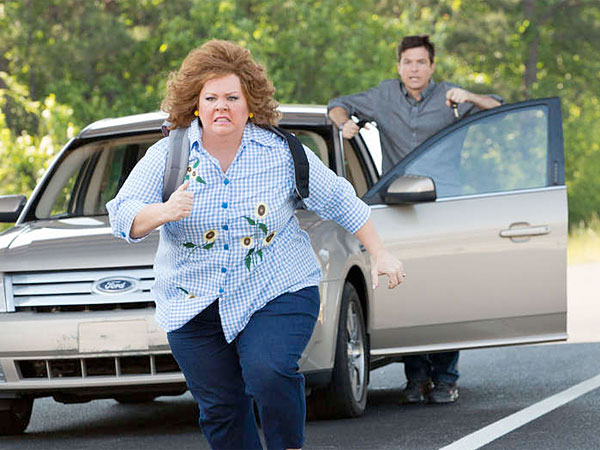 The chief problem with "Identity Thief" is its messy morality.
Our protagonist tells his daughter at the outset of the action that bad behavior is punished, but he engages in such antics.
Meanwhile, as much as our heroine tries to change her stripes, Diana never entirely renounces her amoral ways.
At least one plot line involving Jonathan Banks' incarnated criminal is never taken advantage of and the fates of three villains sent to kill McCarthy are left unraveled. McCarthy's riotous shenanigans and Bateman's straight-arrow businessman and the charisma that they generate salvage this otherwise formulaic saga.